In February, Decanter magazine published a review of Northern Rhône; the excellent 2010 vintage, the top wines from which are now ready to drink. This region produces reds from the Syrah grape and whites from Marsanne and Roussanne but mostly Viognier, a splash of which is sometimes cofermented with the Syrah to add perfume.
The Northern Rhône also happens to be one of my personal favourite regions. I love Syrah and Viognier, and nowhere does them better. (Shiraz is the same grape as Syrah but denotes wines in a quite different style and there is no point comparing them.)
The top wines from this top region command high prices. Among the reds, the most prized appellations are Côte-Rôtie and Hermitage. Here are the five most expensive makers' single bottle prices, averaged over the wines tested by Decanter for which there is a UK price:
Etienne Guigal £476
M Chapoutier £350
Stéphane Ogier £300
Ferraton £68
Vidal Fleurie £68
Decanter gives scores out of 100 to each wine it reviews. Here, for the same wines, are the average scores:
Etienne Guigal 92
M Chapoutier 94
Stéphane Ogier 98
Ferraton 93
Vidal Fleurie 91
So, no correlation whatsoever. In particular, why does Guigal command such a huge premium for his wines (now made by son Philippe), even though (on this occasion) they score a bit below the average (93).
Guigal makes wine at all price points; his entry level Côte du Rhône is a touch over €20 in France. But the wines that were tested by Decanter were from the top of his range: Ex Voto from Hermitage, and the three "La La" wines: La Landonne, La Mouline and La Turque. The La Las have acquired reverential status. They are the names of the vineyards, the top three vineyards in Côte-Rôtie. Each is a single vineyard wine, but not just single vineyard – they are made from just the best plot of vines, somewhere near the middle of the vineyard. No-one else has such good plots, and these grapes are not used for any other wine.

These are designer wines in the same way that there are designer brands. It's not just that this is top quality produce, it's the best Syrah you can buy. So, if you were a millionaire (or if you are a millionaire), why would you buy a lesser wine when you could buy these?
This is the market that these wines are priced for, the price above which demand would be less than supply. Surely millionaires would pay even more if they had too? Not necessarily, for there's competition from the likes of first-growth clarets, grand cru Burgundies and Vega Sicilia Unico.
The question for lesser mortals is: what am I missing if I do buy a cheaper wine? According to the above table of scores, not much. Others agree. Oz Clarke once wrote "The big-flavoured La Mouline, La Turque and La Landonne all rate *** in most critics' opinions – and sometimes in mine."
I have tasted them all, too, not at home, heaven and wife forbid, but from Enomatics. The last time I did so, all three were on show at The Sampler in London. I took along some Château d'Ampuis, the next wine down in the Guigal stable, to compare with them. Château d'Ampuis I can just about afford if I drink it slowly (or sell at a profit after a few years' cellaring). It's a multi-vineyard blend, including the next best bits from the three La La vineyards, from the vines in the very next rows.
Were the La La's better? Not really. All four wines were different, though, tasted side by side. The three La La's were more focussed, one a bit meatier, another more perfumed, nuanced expressions of terroir and winemaking. Wines for purists, rich purists. Would I be able to say which was which the next day if re-tasted blind? Perhaps, maybe. Would I care? No, all four wines are wonderful enough.
I called the La Las designer wines, but there is a difference, and this is one of the many fascinations, and problems, of the business of wine. Chanel can make as much No. 5 as they wish. Nike, Vaporfly; Burberry, trench coats. Supply will never fall short of demand except by design, so several marketing tools are used to support the price: image building through packaging, advertising and now influencers, control of retail outlets. But wines like the La Las are in severely limited supply because no more can be made at that quality, while the number of potential wealthy buyers is large and growing. There is genuine scarcity and little need for marketing. About the only necessary tool is branding, for each wine must have a name. The La Las are serendipitous, but Ex Voto is inspired; it roughly means "In consequence of a wish", as is use of the old name for the vineyard, Ermitage.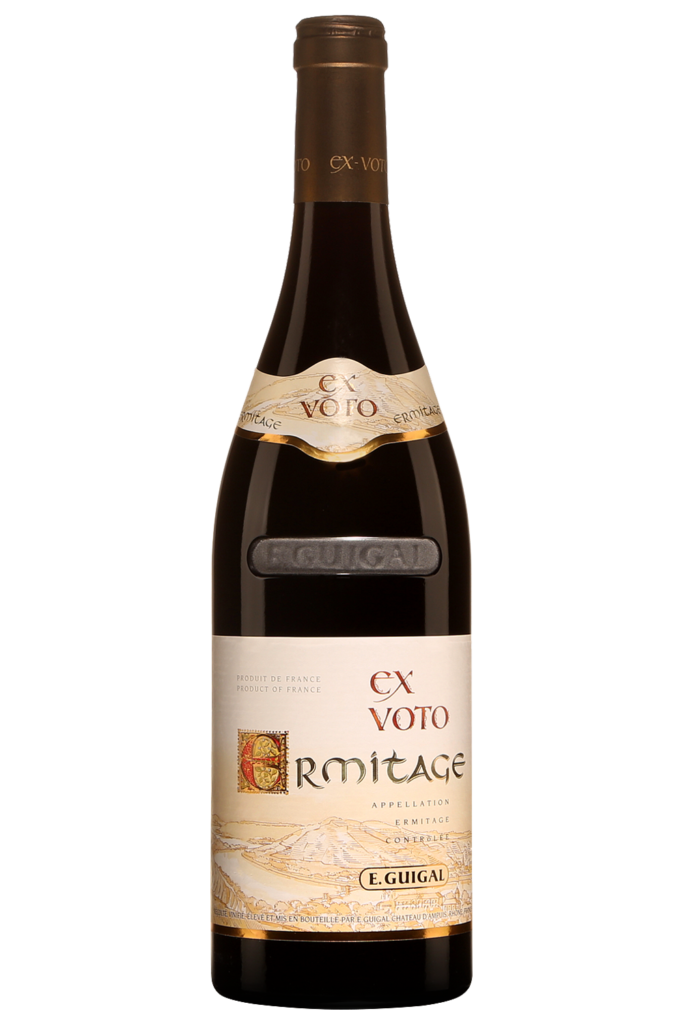 What is the moral here? First, read Decanter, or something similar. An independent panel of expert tasters takes the risk out of choosing expensive wine, though they can't test everything and it's still fun to try out unknowns, especially when someone else has done the buying.
Second, don't pine after these top wines. I have tasted a lot of them and, while they are mostly fabulous, so are many less expensive wines.
Sometimes it's a shock. I once ordered a few bottles of something special from Spain and had to top up to the minimum shipping quantity, so I bought a few of the very cheapest plonk on the list, at £2.56. It was very good! (If you want to know, it was a Tempranillo, 2 Tierras Tinto by Bodega Abazterra in Castilla, non-vintage.)
Third, keep drinking wine that's not so expensive that you think about the price when emptying your glass. Last, obviously, keep reading this blog. Thanks.
Salut!