Chinese wine has an image problem, much like English sparkling wine, and for pretty much the same reasons. One: great wine comes from the Old World. Oh, ok, some of it comes from the New World too. Which world is China in? And England? Not Old, not New, not Third. They are the heart of the Middle Kingdom and the United Kingdom respectively.
Two: what do the Chinese know about wine? It doesn't match their food, except sometimes by accident, and they knock back baiju at meals. Made from sorghum. Sorghum? And for Chinese the colour of wine matters in odd ways. Red beats white, it means good fortune while white is worn at funerals. What do the English know about wine? Well, quite a lot actually, but that's not from a history of actually making the stuff. They make beer and drink both it and wine too warm (and wine too old).
Three: neither country's climate is suited to viticulture. The better vineyards in China are mostly in Ningxia and Shangxi provinces, pretty far north. The average annual temperature is 10°C and winters go down to -20°C. The vines have to be trained low so they can be buried under a mound of earth after harvest and released in the spring, then cut down at ten years old as they get too big and too stiff. England? North of the 50°N viticultural limit, rather wet and unreliable sunshine.
Four: terroir implies location. France has Alsace, Burgundy, Bordeaux … Italy: Piemonte, Tuscany, Sicily… Spain: Rioja, Rueda, Priorat… You get the idea. China has its provinces and England its counties, but the time has yet to come when any of these signify a particular, unique, style of wine.
I wrote about English wine recently and will no doubt do so again, but today it's China's turn. I am no expert. I bought a bottle of Ch. Changyu Moser XV 2006 from Berry Bros six years ago. It was at the time the only Chinese wine they stocked – they still have it and one other now, Ao-Yun, Shangri-La, promoted as "The first 'fine' Chinese wine." Which means I agree with their qualified enthusiasm for the Changyu Moser XV. I've yet to open the bottle but have just drawn my third Coravin sample. The fruit did and still does come across as a bit dull, but if anything it's drinking better now at 13 years than before, much as a top Bordeaux might.
But I have tasted no more wine from China since (baiju is another story, and will be; it's amazing what can be made, and how it's made, from sorghum). So it was with no particular expectations but plenty of curiosity that this weekend I attended a WineChina wine fair and a masterclass co-organised by wine marketeers Vin Republic and one of Singapore's wine luminaries, Ch'ng Poh Tiong who, among his several professional titles, is Regional Chair for the Decanter World Wine Awards and a regular columnist for the magazine.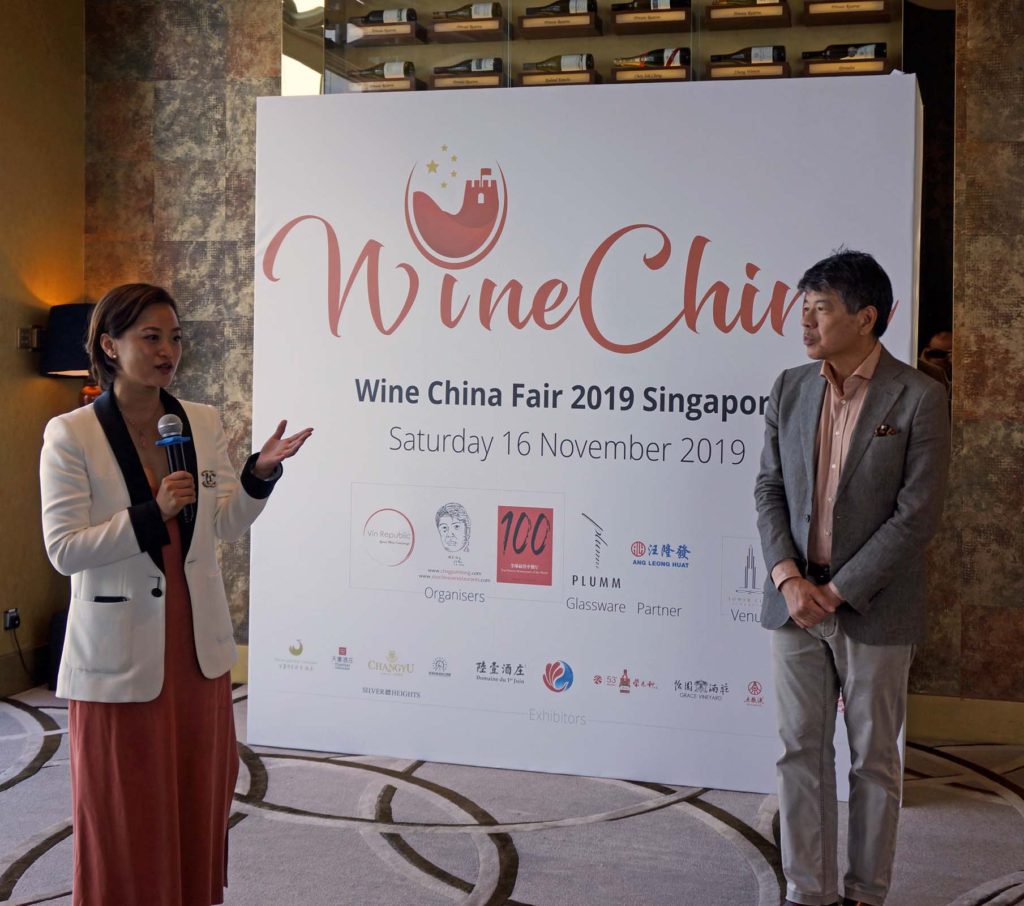 Five top Chinese wineries were showing at the wine fair, including Grace Vineyard (Shanxi) and Silver Heights (Ningxia). There was Changyu again; they are located in Yantai, Shandong province, in the east but at the same latitude. Also two more from Ningxia: He Lan Qing Xue – their 2009 Jia Bei Lan Cabernet blend was a Decanter International Trophy winner, the top category; and Domaine du 1er Juin.

Bordeaux blends, or at least Cabernet-Merlot blends, are a big thing in China and all these wineries except Domaine du 1er Juin were showcasing theirs. It's partly that colour preference again, plus great fondness for Bordeaux's left bank, with its fine wine, grand châteaux (much emulated in China) and aspirational brands. To the extent that this distracts attention from other wine styles, I think that's something of a pity, for two reasons. One is that it's not the best match for Chinese food. Overall, that's probably white wine, with a touch of sweetness for the spicier dishes, perhaps Chenin Blanc or Riesling. If it has to be red, than something lighter and less tannic works better, like Gamay (as in Beaujolais) or Pinot Noir.
The second reason is that it is proving far from easy to get the best from Cabernet Sauvignon in China. All these examples lacked full phenolic ripeness (flavenoids and such), which showed in a lack of colour density and a surprising shift towards red fruits rather than black; it's not often I taste raspberries in a Bordeaux blend. But they were all balanced with well managed tannins; all were just 3-4 years old and not obviously in need of extra ageing, and all were well ahead of my XV 2006, so things have certainly moved on in ten years.
I don't know what still needs fixing. It's not lack of skills: all these wineries have French-trained winemakers and/or consultants. He Lan Qing Xue's winemaker is Zhang Jing, trained in the Rhône, South Africa and Australia, and she is on record agreeing that one current aim is better fruit maturity, which tends to lag behind rising sugar content during ripening.
The masterclass was by Lu Mengxi, the proprietor of Domaine du 1er Juin – named for her son's birthday. Actually it was by video conference – she had got as far as Shanghai airport and was denied a boarding pass because her passport was due to expire. No matter, at least the wines were in Singapore.


First into the glass was a 2017 Riesling. Now, it is said that the first duty of Port is to be red and the second, sweet. I declare that the first duty of Riesling is to thrill and if you could also run your car on the fumes so much the better. This was fabulous. Archetypal Riesling, singing and zinging, citrus and green fruits, a touch of honey, and probably 98 octane. Drier than an Alsace and most German examples too, closer to Australia's Clare Valley but more concentrated than those I remember, with great minerality, whatever that is, and that ageless quality unique to Riesling. And it sells for the equivalent of £20 in China, very fair. A wake up call.
Next up was a 2014 Pinot Noir, nicely pale garnet. Everything in place: red berries and cherries, some leather and liquorice. It had got there quicker than a decent Burgundy, but wasn't about to fall over. Most importantly, wafting out of the glass was that ethereal, ephemeral, haunting aroma that marks out truly fine Pinot and returns to the senses, seemingly just as real, the next morning.
There was no way it was going to get better. The 2016 Pinot wasn't quite in the same class and didn't taste as though it would get there. The Merlot was fine and the semi-sweet Chardonnay to finish was competent and tasty. I look forward to tasting the Cabernet which, actually, Lu was due to bring with her.
So like any wine fair, there was a range of qualities from quaffable to exceptional. So regarding China, it's definitely a case of watch this (very large) space. The Riesling and Pinot Noir show what's possible, at least for these two grapes. All I have to do now is to persuade 1.4 billion Chinese that these varieties match their food better than Bordeaux blends.
Thanks to Vin Republic and Ch'ng Poh Tiong for their hospitality and good luck to the winemakers.
Salut!
https://vinrepublic.com/
http://www.chngpohtiong.com/